Federal Emergency Management Agency
The Federal Emergency Management Agency, or FEMA, is an agency of the United States Department of Homeland Security, initially created by Presidential Order on April 1, 1979. The primary purpose of FEMA is to coordinate the response to a disaster that has occurred in the United States and that overwhelms the resources of local and state authorities. The governor of the state in which the disaster occurs must declare a state of emergency and formally request from the president that FEMA and the federal government respond to the disaster. FEMA also provides these services for territories of the United States, such as Puerto Rico. The only exception is when an emergency or disaster occurs on federal property or to a federal asset, for example, the 1995 bombing of the Alfred P. Murrah Federal Building in Oklahoma City, Oklahoma, or the Space Shuttle Columbia in the 2003 return-flight disaster.

The most recent notable example of FEMA's ability to manage emergencies was their apparent general incompetence, in regards to the Katrina response. I personally know modern day hippies that were more prepared and well organized that FEMA deputized them as a location to receive aid.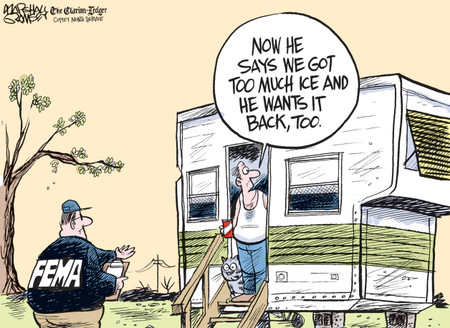 "Why did the Federal Emergency Management Agency…
* not accept Amtrak's help in evacuations?
* turn away experienced firefighters?
* turn back Wal-Mart supply trucks?
* prevent the Coast Guard from delivering diesel fuel?
* ban the Red Cross from delivering food?
* bar morticians from entering New Orleans?
* block a 500-boat citizen flotilla from delivering aid?
* fail to utilize a Navy ship with 600-bed hospital on board?
* allow the city of Chicago to send just one truck? (registration required)
* turn away generators?
* state "First Responders Urged Not To Respond"?
Hurricane Katrina

Although FEMA was not directly involved in the house to house gun confiscation, or the deliberate destruction of at least one levee, they are the ones calling the shots on scene. As a result of FEMA's response their director Brown did resign as head of FEMA, and pointed to the DHS in sharing the responsibility. Homeland Security director Micheal Chertoff lies about his departments prior knowledge leading up to the event, and mentions the levees breaking. It is possible the did not know they had been intentionally destroyed by the Army Corps of engineers, flooding the 9th ward to save the more valuable real estate. Though I would image the agencies were working together during the crisis. Could we expect anything less then lies from Chertoff the co-author of the PATRIOT act?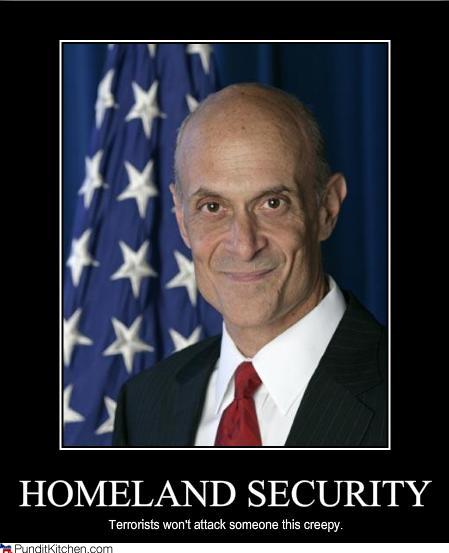 Patriot Act Being Used Against a 16 Year Old Boy & its Own Citizens !
Michael Chertoff The Man & His Star-Crossed Past
One of the little known aspects inside all the secrecy surrounding The vile National ID Card, the HOMELAND Security Act, and the shadowy FEMA camps that many believe are about to be used-concerns the other master criminals that Cheney-Bush hired to ensure that Americans will become as completely controlled a population, as were the people of Communist East Germany or the old USSR.
The National Guard was also involved, or perhaps engaged during Katrina. Their job was to render the population defenses during a dangerous time when being able to protect your family and property was crucial. Does this set a precedent for future events? In time of crisis the National Guard will come in and relieve the people of their right to bear arms. For your own protection FEMA will be right behind them ready to usher the people off to some sort of comfortable emergency relocation facility.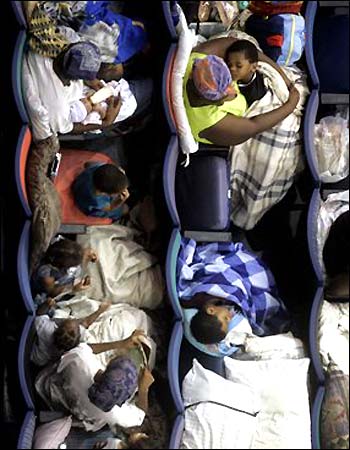 Criticism of government response to Hurricane Katrina
Controversy arose over a September 8 city-wide order by New Orleans Police Superintendent Eddie Compass to local police, National Guard troops, and US Marshals to confiscate all civilian-held firearms. "No one will be able to be armed," Compass said. "Guns will be taken. Only law enforcement will be allowed to have guns."
Firearms Confiscation
Seizures were carried out without warrant, and in some cases with excessive force; one instance captured on film involved 58 year old New Orleans resident Patricia Konie. Konie stayed behind, in her well provisioned home, and had an old revolver for protection. A group of police entered the house, and when she refused to surrender her revolver, she was tackled and it was removed by force. Konie's shoulder was fractured, and she was taken into police custody for failing to surrender her firearm Even National Guard troops, armed with assault rifles, were used for house to house searches, seizing firearms and attempting to get those remaining in the city to leave.
National Guard Confiscating Guns in New Orleans
Angered citizens, backed by the National Rifle Association and other organizations, filed protests over the constitutionality of such an order and the difficulty in tracking seizures, as paperwork was rarely filed during the searches. Wayne LaPierre, CEO of the National Rifle Association, defended the right of affected citizens to retain firearms, saying that, "What we've seen in Louisiana – the breakdown of law and order in the aftermath of disaster – is exactly the kind of situation where the Second Amendment was intended to allow citizens to protect themselves." The searches received little news coverage, though reaction from groups such as the NRA, the Second Amendment Foundation, and Gun Owners of America was immediate and heated, and a lawsuit was filed September 22 by the NRA and SA F on behalf of two firearm owners whose firearms were seized. On September 23, the U.S. District Court for the Eastern District of Louisiana issued a restraining order to bar further firearms confiscations.
I find it interesting that Eddie Compass was later forced to resign. His actions in Katrina lead to a lawsuit, injunction and eventually a temporary restraining order against the gun-grabbing. The end result of this was the Disaster Recovery Personal Protection Act of 2006. I felt it was worth mentioning how the agency handles emergencies, with specific regards towards the general population. If the government can use social and economic disasters to their advantage, why would they not do the same with natural disasters? Or perhaps FEMA's actions reflect they are preparing for a different sort of emergency. The emerging social emergency caused by refugees, immigrants, and possible civil unrest.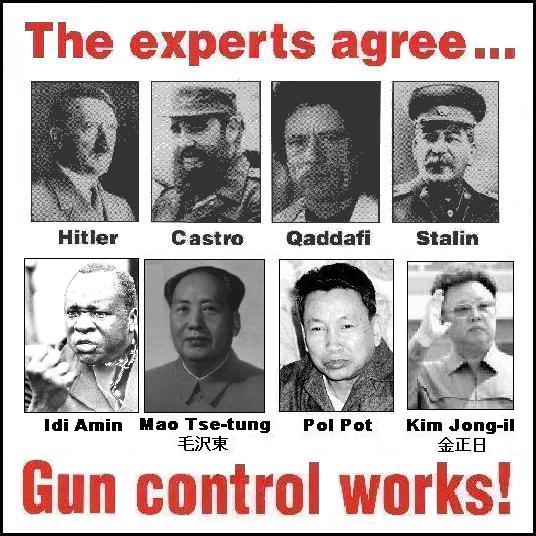 What is a FEMA camp?
I could narrow it down to some facility controlled by FEMA. Though since FEMA was absorbed by the DHS in 2003, perhaps it should now be DHS/FEMA Camps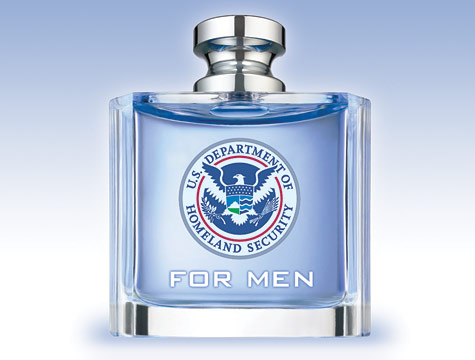 Federal Emergency Management Agency
Following the September 11, 2001 attacks, Congress passed the Homeland Security Act of 2002, which created the Department of Homeland Security (DHS) to better coordinate among the different federal agencies that deal with law enforcement, disaster preparedness and recovery, border protection and civil defense. FEMA was absorbed into DHS in 2003. As a result, FEMA became part of the Emergency Preparedness and Response Directorate of Department of Homeland Security, and employs more than 2,600 full time employees.
It would seem that DHS camps will soon be a reality.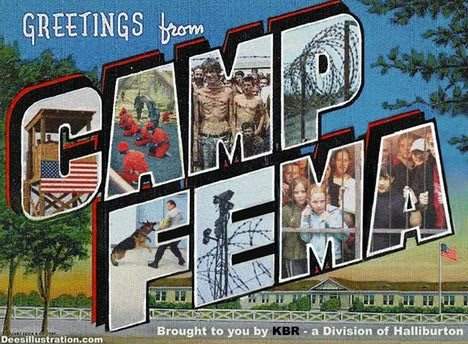 Homeland Security To Build Detention Camps In The United States
Contract awarded to Halliburton subsidiary KBR.
ARLINGTON, Va.–(BUSINESS WIRE)–Jan. 24, 2006–KBR announced today that the Department of Homeland Security's (DHS) U.S. Immigration and Customs Enforcement (ICE) component has awarded KBR an Indefinite Delivery/Indefinite Quantity (IDIQ) contingency contract to support ICE facilities in the event of an emergency. KBR is the engineering and construction subsidiary of Halliburton (NYSE:HAL).

The contract, which is effective immediately, provides for establishing temporary detention and processing capabilities to augment existing ICE Detention and Removal Operations (DRO) Program facilities in the event of an emergency influx of immigrants into the U.S., or to support the rapid development of new programs.
Halliburton & KBR Win Bids To Build Detention Camps in US
Homeland Security Contracts for Vast New Detention Camps – NAM
The contract — announced Jan. 24 by the engineering and construction firm KBR — calls for preparing for "an emergency influx of immigrants, or to support the rapid development of new programs" in the event of other emergencies, such as "a natural disaster." The release offered no details about where Halliburton was to build these facilities, or when.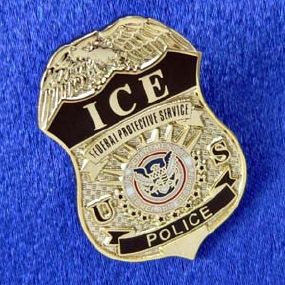 ICE Detention and Removal Operations (DRO) Program facilities in the event of an emergency influx of immigrants into the U.S., or to support the rapid development of new programs.
That last sentence is very important to tie in the historical basis for the FEMA camp story, it is almost a direct quote from REX84 Operation Cable Splicer.
Oliver North Questioned – Rex 84 Exposed During Iran Contra
REX-84 and Night Train 84, were drafted and run by FEMA's contact person with the National Security Agency, one Lt. Col. Oliver North.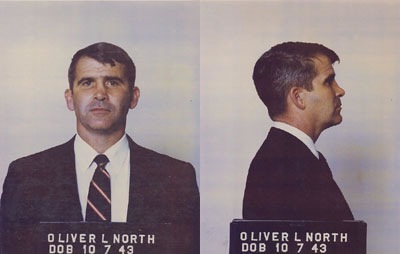 Oliver North won't go to prison even though he lied to Congress, shredded White House documents and accepted a $14,000 security fence from an Iran-contra arms profiteer. His punishment of 1,200 hours of community service, $150,000 fine and three years' suspended sentence doesn't fit his felonies. Even a brief imprisonment might have inspired more public officials to comply with the law and legitimate inquiries from Congress. Perhaps uniquely among convicted felons, Mr. North escapes prison largely because he still will not acknowledge that what he did was a crime and a perversion of public service.
The Rex-84 Alpha Explan (Readiness Exercise 1984, Exercise Plan; otherwise known as a continuity of government plan), indicates that FEMA in association with 34 other federal civil departments and agencies, along with other NATO nations, conducted a civil readiness exercise during April 5-13, 1984. It was conducted in coordination and simultaneously with a Joint Chiefs exercise, Night Train 84, a worldwide military command post exercise (including Continental U.S. Forces or CONUS) based on multi-emergency scenarios operating both abroad and at home. In the combined exercise, Rex-84 Bravo, FEMA and DOD led the other federal agencies and departments, including the Central Intelligence Agency, the Secret Service, the Treasury, the Federal Bureau of Investigation, and the Veterans Administration through a gaming exercise to test military assistance in civil defense.
More specifically the two subprograms, the first 'Operation Cable Splicer' and second 'Operation Garden Plot'
Operation Cable Splicer is a subprogram of the Rex 84 Program, which "was established on the reasoning that if a 'mass exodus' of illegal aliens crossed the Mexican/US border, they would be quickly rounded up and detained in detention centers by FEMA. Rex 84 allowed many military bases to be closed down and to be turned into prisons."
Homeland Security Detention Center- Taylor TX.
Operation Cable Splicer is "the program for an orderly takeover of the state and local governments by the federal government. FEMA is the executive arm of the coming police state and thus will head up all operations. The Presidential Executive Orders already listed on the Federal Register also are part of the legal framework for this operation.

ICE Detention and Removal Operations (DRO) Program facilities in the event of an emergency influx of immigrants into the U.S.
So it seems to be they are still using the same play book, despite the name change. Now what about this 'Operation Garden Plot'?
The official name of this project is called "Operation Garden Plot." Under this plan for the deployment of Operation Garden Plot, the use of CIDCON-1 will be mandatory. This direct support of civil disturbance control operations is to be used by the Army, USAF, Navy, and Marine Corp. with an airlift force to be comprised of MAC Organic Airlift Resources, airlift capable aircraft of all other USAF major commands, and all other aerial reconnaissance and Airborne Psychological Operations. This is to include control communications systems, aeromedical evacuation, helicopter and Weather Support Systems.
Operation Garden Plot Activated
If any civil disturbance by a resistance group, religious organization, or other persons considered to be non-conformist takes place, under Appendix 3 to Annex B of Plan 55-2 hereby gives all Federal forces total power over the situation if local and state authorities cannot put down said dissenters.

Annex A, section B of Operation Garden Plot defines tax protesters, militia groups, religious cults, and general anti-government dissenters as Disruptive Elements. This calls for the deadly force to be used against any extremist or dissident perpetrating any and all forms of civil disorder.
"to support the rapid development of new programs"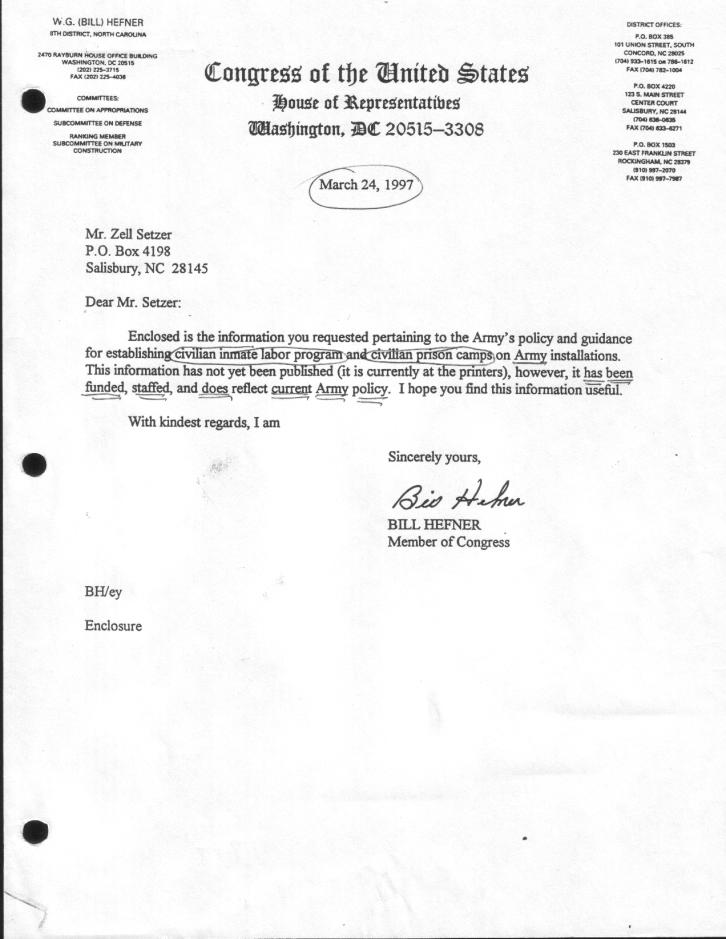 2 TAB A APPENDIX 1 TO ANNEX S USAF CIVIL DISTURBANCE PLAN 55-2 EXHIBIT POR:SGH, JCS Pub 6, Vol 5, AFR 160-5 hereby provides for America's military and the National Guard State Partnership Program to join with United Nations personal in said operations. This links selected U.S. National Guard units with the Defense Ministries of "Partnership For Peace." This was done in an effort to provide military support to civil authorities in response to civil emergencies.

Under Presidential Decision Directive No. 25, this program serves to cement people to relationships between the citizens of the United States, and the global military of the UN establishments of the emerging democracies of Central and Eastern European countries. This puts all of our National Guardsmen under the direct jurisdiction of the United Nations.
I read this over and again and it still blows me away. Foreign troops given power to police American soil. Read it again and be sure to note 'Civil Disturbance Plan'. What sort of emergency where the existing measures could warrant an international response? Consider a major catastrophic event on a nation wide scale, something many times more devastating then Katrina. Would you feel comfortable with martial law consisting of our own troops? This provides for martial law where the police are not even U.S. citizens. Could it be they know they can not count on American troops to fire on the people they are trained to protect? I'm sure those who feel no bond toward the people of the US would have much less of a problem with that.

What is happening today which might require some sort of military intervention? Seems the U.S. is suffering a bit of financial trouble. Many people overextended themselves and have left their homes for the shelter of tents, which has caused tent cities to pop up around America. Meanwhile south of the border Mexico is dripping with blood, 5,000 drug murders in 2008, and  martial law is in effect to battle the cartels.
Martial Law In Juarez Mexico
Schwarzenegger Sets Up Homeland Security "Camps" for Homeless (and those who will be rounded up later)
American Tent Cities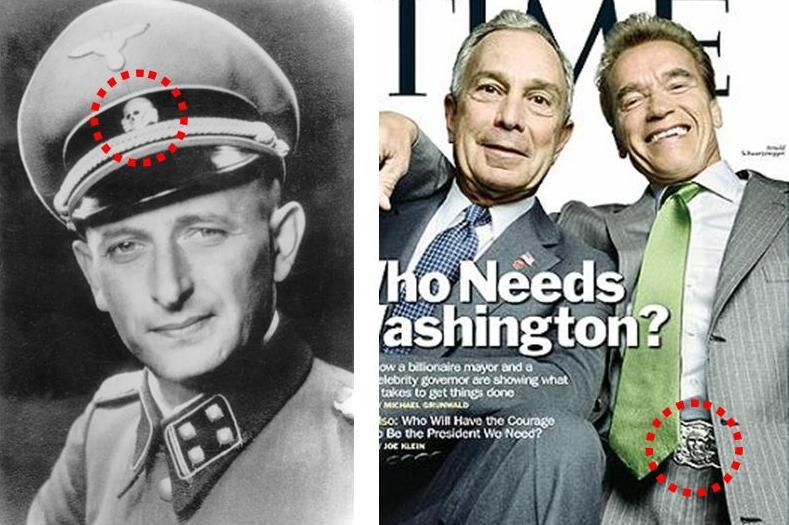 Schwarzenegger To Provide Government Camps For Homeless
Plans to shut down tent cities in California and relocate homeless people to government-run facilities have stoked fears that the move could be a pretext for a wider internment of Americans in the event of a total economic collapse
That story mentions "A new bill introduced in Congress authorizes the Department of Homeland Security to set up a network of FEMA camp facilities to be used to house U.S. citizens in the event of a national emergency." Perhaps all of those alleged FEMA camps on military bases require a bit more legitimacy. The bill could 'grandfather in' what may be existing facilities like those known to exist at Camp Grayling.
GovTrack: H.R. 645: Text of Legislation, Introduced in House National Emergency Centers Establishment Act
If passed this legislation would allow the DHS to establish national emergency centers on military installations. According to the text "not fewer than 6" on any installation. These emergency centers save the trouble of building camps by using existing infrastructure for our own good. The closed military installations can be transfered to the control of Homeland Security. Until this passes Halliburton will be profiting from the guaranteed event of a massive influx of illegal immigrants or "planned acts of violence or civil disobedience which, are seized upon by a dedicated group of dissidents who plan and incite purposeful acts designed to disrupt social order". Maybe we can hope KBR lobbies against the bill so they continue to receive tax-payer money to build shiny new camps, which will take much longer but at least future detainees will have modern facilities.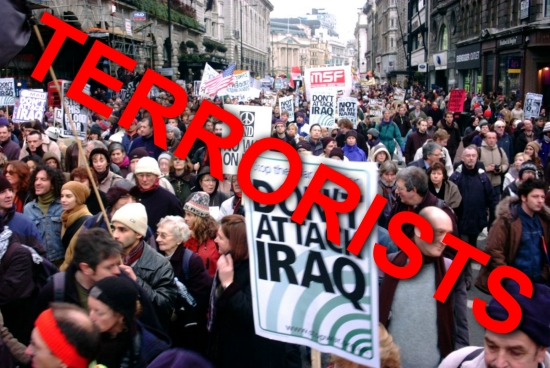 Federal emergency planning consists of taking it's problems and moving them into nice facilities. Emerging threats include militants, right-wing extremists, white-supremacists, and maybe someone you know who is stockpiling food just in case they don't want to depend on Homeland Security to take care of them in an emergency. They can't have people taking care of themselves when times get tough.
Epoch Times – Homeland Security Warns of Right wing Extremists
The similarities between the social and economic situation in the 1990s to the current situation are a growing concern to the DHS. Back then there was a growth in violent acts from the groups against government facilities, law enforcement officers, and infrastructure sectors.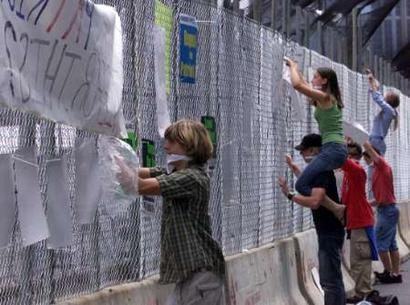 Their actions were fueled by fear of tighter gun control, free trade with Mexico, and the decline of morality. They blamed job loss on illegal immigrants, feared other countries rising amidst U.S. economic downturn would lead to a "One World Government," and saw gun control as a violation of their First Amendment rights.
Kissinger: Obama Will Create A New World Order
These same issues are becoming even more of a concern for these groups, as the current world state is bringing them to the culmination of their conspiracies. "Historically, domestic rightwing extremists have feared, predicted, and anticipated a cataclysmic economic collapse in the United States," the report says.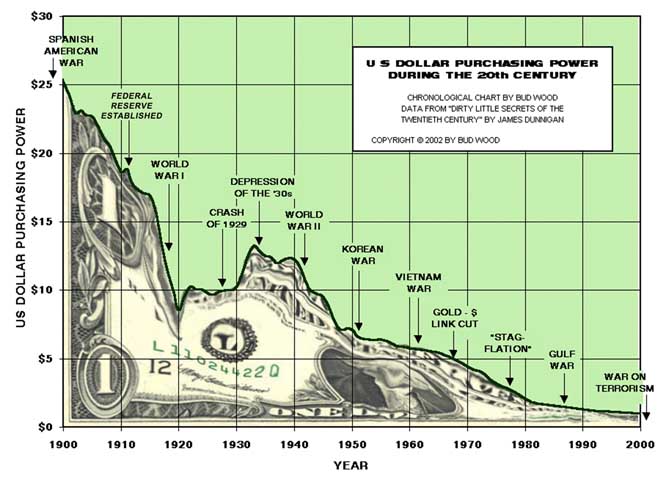 "Conspiracy theories involving declarations of martial law, impending civil strife or racial conflict, suspension of the U.S. Constitution, and the creation of citizen detention camps often incorporate aspects of a failed economy. Antigovernment conspiracy theories and 'end times' prophecies could motivate extremist individuals and groups to stockpile food, ammunition, and weapons".
We Are Under Martial Law! As Declared By The Speaker Last Night! Rep Burgess
The report concludes that the DHS will be working with its state and local partners over the next several months to find out more about rightwing extremists activity in the United States "with a particular emphasis on the political, economic, and social factors that drive rightwing extremist radicalization."
Here we have the DHS who has the plans for martial law. The executive orders and the PATRIOT Act which result in the suspension of the U.S. Constitution. Now the creation of citizen camps which are being used to house victims of a failed economy. Though the media is calling people who know about it 'Conspiracy theorists'.
Glen Beck and Popular Mechanics – the truth stops here.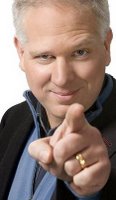 Ironically by attempting to disprove what they consider conspiracy theories, they have confirmed their position. At best they are failed journalists, and at worst they deliberately deceive the public.

CNN Host calls for Military to Silence any Domestic Dissent in America
Complaints and demands for a retraction and an apology are flooding CNN today after Neo-Con host Glenn Beck and ex-Marxist David Horowitz smeared Ron Paul supporters, libertarians and the anti-war left as terrorist sympathizers and inferred that the U.S. military should be used to silence them, parroting a talking point that traces back to a September 2006 White House directive.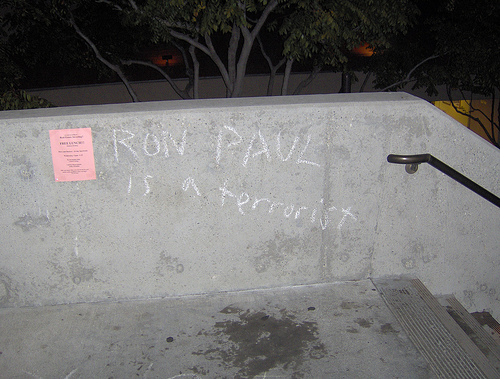 Didn't that 'Operation Garden Plot' mention something about using the military to silence dissidents?
If any civil disturbance by a resistance group, religious organization, or other persons considered to be non-conformist takes place, under Appendix 3 to Annex B of Plan 55-2 hereby gives all Federal forces total power over the situation if local and state authorities cannot put down said dissenters.



Annex A, section B of Operation Garden Plot defines tax protesters, militia groups, religious cults, and general anti-government dissenters as Disruptive Elements. This calls for the deadly force to be used against any extremist or dissident perpetrating any and all forms of civil disorder.
DNC Protesters Detained In Camps
"I ask, sir, what is the militia? It is the whole people, except for a few public officials."
— George Mason, in Debates in Virginia Convention on
Ratification of the Constitution, Elliot, Vol. 3, June 16, 1788
Popular mechanics has already stuck its neck out once before in an attempt to debunk theories. What they showed us is either a lack of research, or a willingness to avoid the real facts and inconsistencies surrounding the official story of 9/11.
Popular Mechanics' Assault on 9/11 Truth
This sounds impressive, but the article provides no evidence to back up these claims. It provides no footnotes to source its many assertions, and despite the scores of experts listed in its final section the article cites only a handful of them, and mostly to refute its straw-man claims.

Moreover, bold unsubstantiated claims in the article — such as PM's assertion that there was only a single interception in the decade before 9/11/01 — don't inspire confidence in PM's professional fact checkers. It echoes the discredited assertions of official reports such as FEMA's World Trade Center Building Performance Study and the 9/11 Commission Report. It provides no evidence PM investigated the attack — only evidence that it investigated the 9/11 Truth movement in order to determine how best to discredit it through misrepresentation.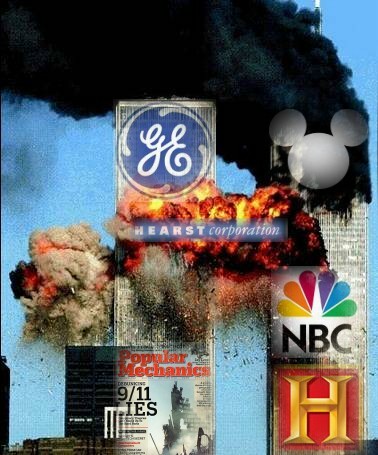 Already this Hearst publication has lived up to its 'Yellow Journalism' history. It seems they have done it again in this recent attempt to 'debunk' the FEMA camps. They investigated the conspiracy theories, without bothering to do any legitimate research.
Glenn Beck Invites James "Yellow Journalism" Meigs To Debunk FEMA Camps
Despite admitting that they haven't deeply researched the issue, Meigs makes it clear that they have already decided it "isn't true" – proving once again that the whole process isn't about really getting to the bottom of the issue, it's about debunking a perfectly provable fact by means of strawman tactics and deceitful reasoning.

"It looks from our early reporting like a classic conspiracy theory," claims Meigs, adding, "Little grains of truth all adding up to something that really isn't true."
So what did they say exactly about the FEMA camps?
Debunking The FEMA Concentration Camp conspiracies Part 1
FOXNews.com – Debunking Web Myths About FEMA Camps – Glenn Beck
what we did was we looked into these claims. You know, you can't go and visit every one of the 600 sites that some of these conspiracy theorists claim.
They took some popular examples of unfounded claims (conspiracy theories) and debunked them, just as they did with the 9/11 story. If I found someone on the internet that claimed the moon was really made of cheese, and spent five minutes going over how they were wrong, have I really done any debunking?
we started looking at the ones that are most popular on the Internet.
The first debunked FEMA camp is the Amtrak repair facility in Beach Grove, Indiana.
FOXNews.com – Debunking Web Myths About FEMA Camps – Glenn Beck
MEIGS: Well, it is not very hard to find, like many of these things. The truth is actually fairly evident. This is an Amtrak repair facility in Beach Grove, Indiana.
The woman who made this video initially claimed that it's some kind of American Auschwitz. And they have outfitted buildings with gas and they've got these strange turnstiles.
In fact, it is a repair facility. We sent a crew there the other day and we got…
(CROSSTALK)
BECK: Is this your video?
MEIGS: Yes. So initially, they had some old buildings that were boarded up that have since been knocked down. But we also went inside the other buildings, and sure enough, what did we find? They were repairing trains in there.
BECK: Well, trains, I believe — well, Auschwitz had trains. I'm just saying.
MEIGS: But once you go down that road, if somebody wants to be convinced of that, they can't really debunk that.
BECK: Do we have the video with audio? Because if we don't, I don't really care. The video with the audio about the boarded-up buildings with the gas chambers.
Do you have that?
(BEGIN VIDEO CLIP)
UNIDENTIFIED FEMALE (voice-over): In yet another fenced area, we see a large warehouse building at the end with the electronic turnstiles in front of it.
(END VIDEO CLIP)
BECK: OK. That they were putting gas heaters of some sort in there.
MEIGS: Right. And what we found out is — first of all, one of those buildings has been knocked down. The other ones were upgraded. Their heating system was obsolete. And more than 15 years ago, they upgraded them to gas heat so they could work on the trains.
BECK: These videos — they're not new. Everybody is saying, oh, this is an Obama thing. I thought this was a Bush thing because of Halliburton and everything else. But that's not even true.
MEIGS: No, this video actually dates from about 1995. But like so many of these conspiracy theories, it gets re-cut and re-edited and circulated around the Internet.
So some people who are looking at it have no idea what the original source was.
BECK: OK. So the turnstiles are there for — they were there. They're not there anymore?
MEIGS: Right. The turnstiles were just ordinary subway turnstiles, familiar to anybody who's ridden subways in New York. And they were used to clock in and out their employees. Now, they've replaced them with small kiosks that have time clocks.
FEMA Camp/Beach Grove Indiana
Notice Beck states "Do we have the video with audio? Because if we don't, I don't really care." How is he supposed to form an opinion without reviewing the evidence? Maybe he wanted Popular Mechanics to do the thinking for him (and his audience). The video starts out with "The FEMA plans to imprison American citizens. These plans are the basis for the search for existing FEMA camps. I won't suggest the location in Beach Grove is anything other then an Amtrak repair facility. Perhaps the military train and other military equipment at the site is not remarkable because Amtrak itself is a government-owned corporation.
BECK: Who is the woman voicing this?
MEIGS: Her name is Linda Thompson. And back in the '90s, she was one of the leaders of the so-called militia movement. And she made a number of videos…
BECK: Wait. This is the militia movement that — what's his name — Timothy McVeigh was involved with?
MEIGS: That's right.
BECK: OK.
MEIGS: And I am not necessarily tying her to that.
BECK: Yes.
MEIGS: And yet, at one point, even many of her fellow people in the militia movement started to move away from her a little bit when she recommended are that some of her followers should march on Washington and start executing senators.
BECK: So she was too extreme for militia members?
MEIGS: Apparently, yes.
BECK: Apparently. OK.
MEIGS: And yet, you'll see a video made by someone like that embraced by people all over the political spectrum without really knowing what the source is or without checking out if it is remotely accurate.
Once more for emphasis.
MEIGS: Her name is Linda Thompson. And back in the '90s, she was one of the leaders of the so-called militia movement. And she made a number of videos…
BECK: Wait. This is the militia movement that — what's his name — Timothy McVeigh was involved with?
MEIGS: That's right.
BECK: OK.
MEIGS: And I am not necessarily tying her to that.
BECK: Yes.

Beck managed to work in the militia movement, and ties it to Timothy McVeigh. The sort of rightwing people the government documents indicate the camps are intended for. I was watching the news live when the Oklahoma city bombing reports started coming in, and I vividly remember people on the scene talking about multiple explosions. Similarly on 9/11 I heard the exact same thing. Remembering the lies about the Oklahoma city bombing I knew when I saw those two buildings implode the planes had as much to do with the collapse of the towers as the box truck had to do with the damage of the federal building in Oklahoma City. There are a number of similarities between the two incidents. It seems misters Beck and Meigs have pre-formed world views which allow them to ignore inconsistencies in information presented from what are considered 'Official Sources'. Returning to the topic at hand, I leave you with this.
It has been nearly 10 years since Oklahoma City's Murrah building was blown apart one quiet April morning. Contrary to news reports, the persons found guilty and sentenced for the Murrah bombing atrocity could not have been solely responsible.


The next theory debunked is based on this altered photograph. The name of the made-up facility, "Swift Luck Greens," is an anagram for "Left Wing Suckers". With this fact it would seem that Glenn's own site admits this hoax was created by the 'right' in an attack on the 'left' and the FEMA camp story in general.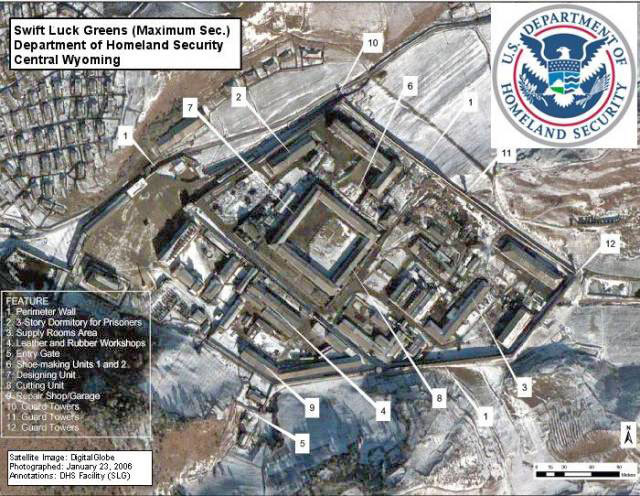 Why Are Internet Conspiracy Theories So Difficult to Debunk?
part of a report done by a human rights group that is focused on human rights violations in North Korea. Somebody went in and pulled these photos off their Web site, slapped the Department of Homeland Security logo on it and claimed that these are on American soil.
Why are internet conspiracy theories so difficult to debunk? For people like Glen Beck conspiracy theories take them down a dark pathway. Where they are forced to shine the light in forbidden places, exposing things they have trained their minds to ignore. The debunking continues with 'Camp Grayling'. It is a National Guard base, which does have prison facilities for training military police in war-time prisoner handling. I wonder what kind of prisoner handling? Literal handling? Or perhaps the Abu Ghraib sort? Furthermore, wouldn't this classify Camp Grayling as a mock 'POW' camp? The list of supposed FEMA camps has a number of old POW camps that did exist on US soil that a have possibly been recommissioned. On top of this, how 'mock' is this prison? Are the walls made of cardboard? Could it be used to actually house immigrants or those guilty of dissent? The new proposed legislation would utilize existing military installations for such things.
After touching on this camp, the host begins to prepare his defense against the personal attacks that would surely follow such a failure to report the truth. The audience is setup by debunking more straw man facts. They claim what they are telling people is the truth. They reassure the audience they are reporting based on evidence. Though the only reporting done was investigation of a small disprovable fractions of the whole story. They mention 9/11, tying in this debunking of the FEMA camps with their previous failure. In the end they make themselves look even more foolish by discussing the JFK assassination, another event that changed the world where the official story does not fit the facts. Actually according to Meigs they are the conspiracy theorists because they went into this investigation with a world view where FEMA camps could not exist, and ignored the facts.
Debunking The FEMA Concentration Camp conspiracies Part 2
if you really tried to debunk these things we should prove the truth. and I think this is why the mainstream media doesn't do it
FOXNews.com – Why Are Internet Conspiracy Theories So Difficult to Debunk? – Glenn Beck
BECK: OK. Show me the pictures of Camp Grayling. Do we have the picture of the watchtowers? This is pretty spooky. This is where Americans are currently being held, I believe, they're saying.
MEIGS: People say all kinds of things. And these pictures have been floating around the Internet for more than 10 years.
In fact, Camp Grayling is the largest National Guard training facility in the U.S. They train Army, Navy, Marines.
And one of the groups they train is military police. And in fact, one of the functions they train them for is handling prisoners of war in a battle zone like Iraq. So that's what that facility is intended for.
BECK: So James, here is what I — here's I guess where I want to go. You and I both — I mean, and there's others — if you really tried to debunk these things and I think this is why the mainstream media doesn't do it. First of all, do you believe — because I don't think we should set out in anything to debunk it or to prove it right. We should prove the truth.
MEIGS: Well, it is called reporting.
BECK: Oh, I didn't know that!
MEIGS: When somebody makes a claim about facts, you don't make up your mind in advance. You go and you look at the facts, you look at the evidence.
What's frightening about the conspiracy theorists is that they really have already made up their minds in a lot of cases.
And so when you come along and say, "You know, we checked out that claim you're making. It turns out it is not exactly true." They don't say, "OK. Let me go back and maybe I should check my facts again." They say, "Clearly, you are a part of it."
BECK: Right. You and I both have been "part of it" now. We're a part of it. I was actually — somebody called me the grand architect for 9/11, because I came from nowhere. And my rise has been, in their eyes, so meteoric, which I worked for 30 years in radio.
But it happened "so fast," that the only thing that could explain it is that I was the media architect on the cover-up of 9/11.
MEIGS: And you could see how people are searching to make these conspiracies get bigger and bigger. Because the core facts they have been blaming on the 9/11 conspiracies, which Popular Mechanics — the way a lot of this started is we've investigated these for several years. But every time you knock down a certain fact that someone is claiming, they have to expand the conspiracy.
So now, you're in it. We are in it. Anybody who believes the mainstream view is somehow tied up. There must be hundreds of thousands of people now keeping this secret. And yet, somehow it has never leaked.
BECK: We have always had conspiracies. I mean, you know, growing up,
I remember, "Oh, no. It wasn't Lee Harvey Oswald. Oh, no, no, no. You don't know."


Where did these come from? Why are these — because there are so many of them now.
As I see it, it is a combination of you have access to photos, information, easy to make videos, easy to make things look real. And there is no filter on the Internet, so people can just say and do whatever they want, which is fine with me.
But then the other side is journalism doesn't mean anything anymore. I mean, the things that have been said and written, where it's a blatant lie or it's just part of the truth. So the media and Washington and everything else has so disenfranchised people they don't believe that anymore. Is that what caused it to get so bad now?
MEIGS: There are a lot of elements to this. And this goes back to the 19th century, suspicion about different groups and plots and conspiracies of all sorts. It is a deep part of our culture.
But today, what you're seeing is the Internet makes it a lot easier. And people are skeptical. And that's not a bad thing.
It's actually healthy to ask questions. It's healthy to be skeptical. But then, you've got to pay attention to the facts.
BECK: Right. The problem somebody is you're not being skeptical, because I think that is exactly — Thomas Jefferson said, "Question with boldness even the very existence of God, for if there be a God, he must surely rather honest questioning over blindfolded fear."
That has guided my life for the last 15 years.
And the thing is not just question with boldness, honest questioning. You're not trying to prove an agenda. You don't care. Your agenda is the truth. And conspiracy theorists don't seem to care either.
MEIGS: Well, what you see is there is a huge difference between skepticism and cynicism. And a lot of people say they are being skeptical are really just deeply, deeply cynical.
Skepticism means asking questions, listening to the answers, approaching the facts with good faith. And when you find a fact that doesn't support your world view, maybe you'd better change your world view.
Conspiracy theorists tend to come in with a world view that is fixed. And then when they find facts that don't work, they just ignore those facts.
BECK: OK. Jim, thank you very much.
MEIGS: All right. My pleasure.
Speaking of secret projects too big to hide, what about this?


Manhattan Project
Born out of a small research program in 1939, the Manhattan Project eventually employed more than 130,000 people and cost nearly $2 billion USD ($24 billion in 2008 dollars based on CPI). It resulted in the creation of multiple production and research sites that operated in secret.

More recent then the Manhattan Project, I remember when area-51 was still a conspiracy theory. So it is very possible for the government to carry out secret domestic operations, even when they involve the creation of the largest building in the world. It seems clandestine operations can be carried out on American soil under the noses of the people, and off the official books. It is no stretch of the mind to consider a large number of people could be involved in some sort of operation when compartmentalized and working on only one tiny aspect of it. One small piece of the puzzle which creates a big picture that only a very few can see. On the other hand I am finding it hard to believe there are hundreds of massive FEMA camps all over the United States that are staffed and not in operation. Massive facilities that in almost 15 years no one has ever been able confirm.

That seems to be as far as the Beck interview about the FEMA camps went, after debunking only two of the alleged sites they change the subject. On the Popular Mechanics site they change up and go after the "Hundreds of thousands of plastic coffins". Now I want you to think about this for a second. Why would they bury millions of their enemies in individual graves? I think history shows us that the disposal of bodies would be in mass graves. I find it doubtful if a segment of the population was rounded up and interned in these supposed death camps, there would be any chance of even a paupers burial.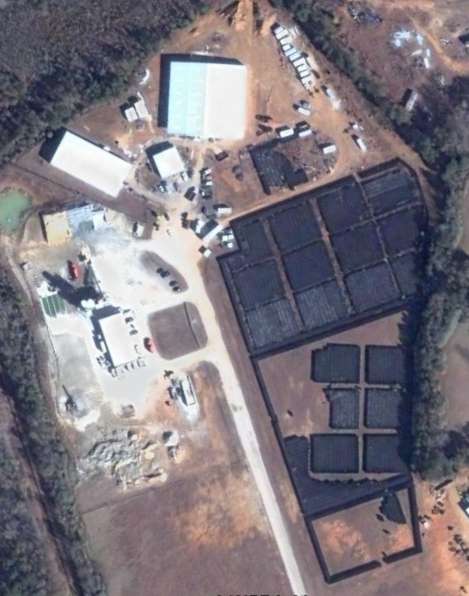 Debunking FEMA Concentration Camps – The Truth Behind FEMA Camp Sites
The black polypropylene products purported to be coffins are grave liners, or burial vaults, manufactured by Convington, Ga.-based Vantage Products. (In this case, they are examples of the company's Standard Air Seal model.) The use of a burial vault, which prevents the collapse of cemetery ground and protects the casket, is a common requirement when a body is interred.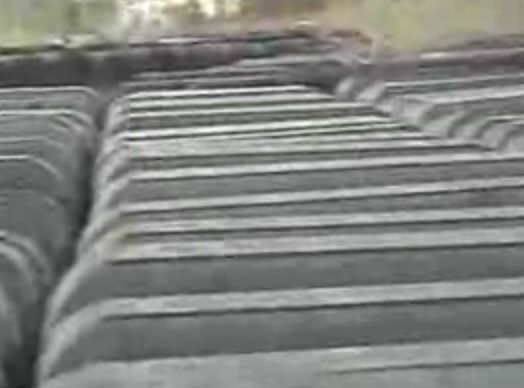 The filmed lot in Madison, Ga., is a Vantage storage facility. Of the 900,000 or so in-ground burials in the U.S. each year, a small percentage of those people prearranged their own caskets and vaults—which Vanguard holds at the storage facility until the appropriate time. According to company Vice President of Operations Michael Lacey, there are approximately 50,000 vaults in storage in Madison. "It's nowhere near the quantity they talk about on the Internet," he told the local Morgan County Citizen newspaper. Furthermore, Lacey has said the company maintains detailed records of product ownership and is audited annually, to insure all vaults are accounted for.
How can they claim to call this article 'The Truth Behind FEMA Camp Sites'? They have mentioned no truth at all, they have only destroyed straw men to get ratings and sell subscriptions.
After going over the coffin liners they finally bother to mention some history, and then tie it into the X-Files, again an attempt to discredit even valid information by associating it with science fiction. Interesting note on Bruce Ackerman. He is a Yale contemporary of both John Kerry and George W. Bush. Though he is not a listed Skull and Bones member so I will not call him as such. However he is one of the most frequently cited legal academics in the country.

What he says in this context makes perfect sense, but the failure here is to actually look at what has come to pass in the 47 years. The failure is to look at what is happening now in relation to the executive orders, and to look at the people those orders give the ultimate power too. It could be that Mr. Ackerman is excellent at pandering, after all he must get cited so often for saying what the media wants the people to hear.
Debunking FEMA Concentration Camps – The Truth Behind FEMA Camp Sites
According to Bruce Ackerman, Sterling Professor of Law and Political Science at Yale Law School, "The question of whether executive power could be abused so as to act inconsistently with the law has been a central constitutional concern for years. But the question in this case is whether it's right to look at 47-year-old executive orders without studying what came after them. And the answer there is obviously no."
Executive Orders of Tyranny
The idea of the government seizing all the nation's farmland or forcing Americans into labor camps is without basis—except in Hollywood. In the first X-Files movie, the character Dr. Alvin Kurtzweil meets agent Mulder in a dark alley. "Are you familiar with what the Federal Emergency Management Agency's real power is?" Kurtzweil asks. "FEMA allows the White House to suspend Constitutional government on declaration of a national emergency. Think about that!"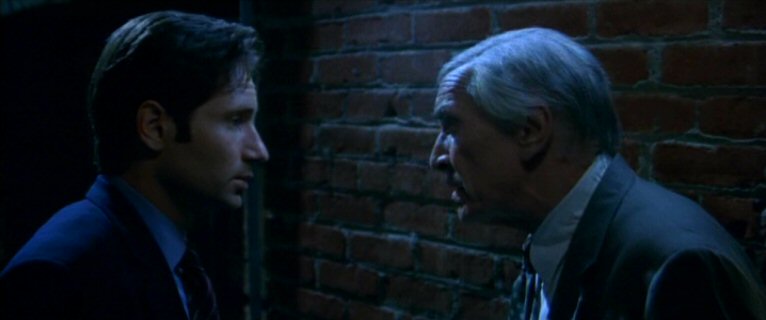 The Lone Gunmen, a spin-off of the popular series The X-Files, was a television show that aired on FOX, featuring the characters of the same name. The show first aired in March 2001 and, despite good reviews, was canceled due to a drop in ratings. The last episode aired in June 2001.
The debut of the show in March 2001, began with Byers' father faking his death to uncover a conspiracy to hijack an airliner. The Lone Gunmen try to get to the truth of his supposed death and uncover the conspiracy.
One retrospectively interesting aspect of this pilot episode is that the airliner has been hijacked (via remote control of the plane's autopilot) and, by the end, both Byers and his father have boarded the plane to try to stop the hijacking. Through the aid of the other Gunmen, they are able to regain control of the plane and just miss crashing into the World Trade Center with the airliner. This, of course, is before the actual attack against the Trade Centers later that year.
911 Conspiracy predicted in X Files
The executive orders form another big part of the FEMA camp story. To summarize they literally give the government control over everything in the country. This includes you and your possessions, both of which can be forced into some service such as labor. Piled on top of these orders are the FEMA camp stories. Most searching will come up with this same claim which seems to have been passed around the internet for more or less ten years. I remember reading about the executive orders that far back. The typical site has the exact same text, it covers the executive orders, and then goes into the story of Terry Kings. This is the FEMA camp internet conspiracy theory. It's always the same story with very little difference. 600 (or maybe 400, or 800) camps in the US, which is then confirmed by an alleged eye-witness account.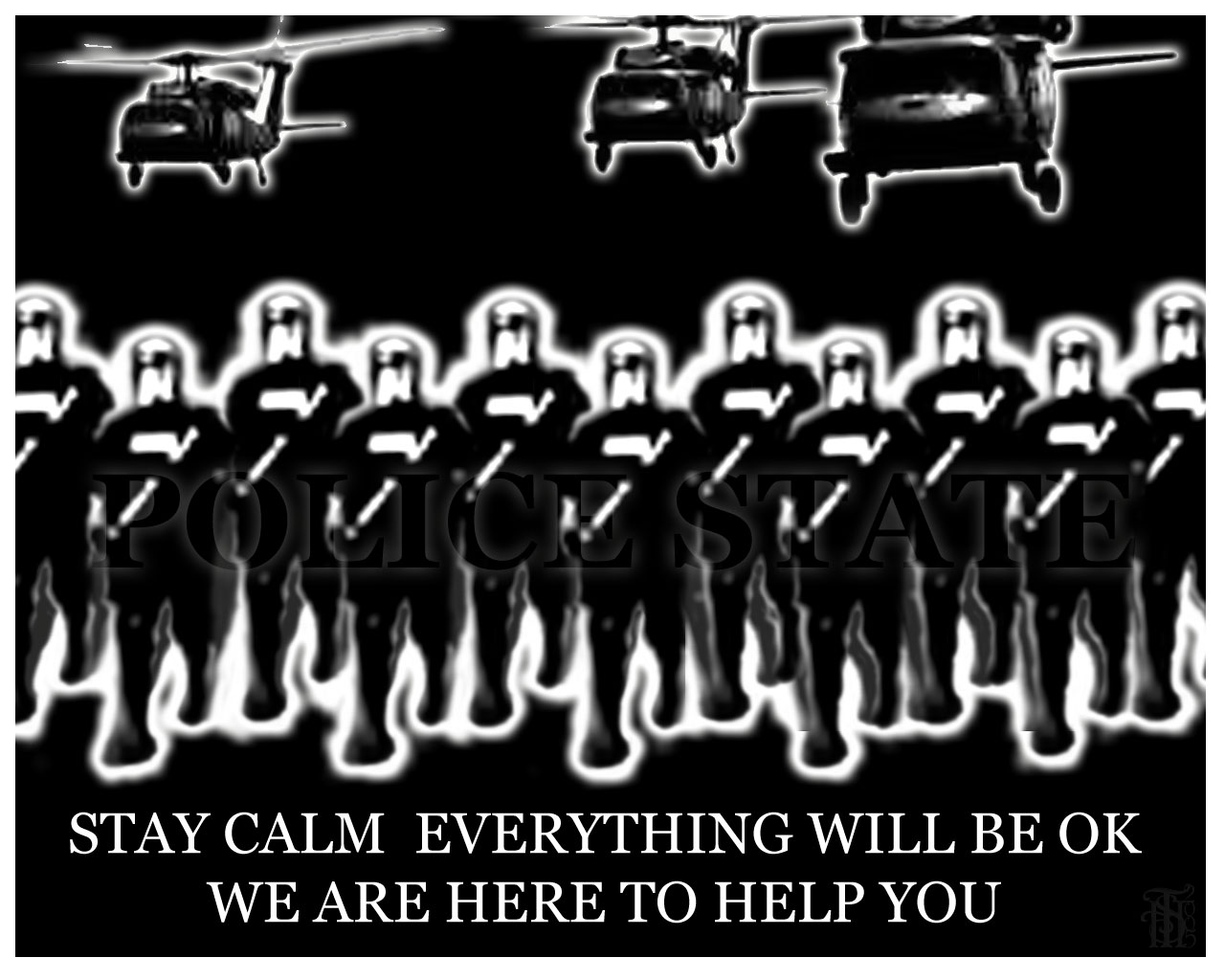 FEMA Concentration and Internment Camps
There over 600 prison camps in the United States, all fully operational and ready to receive prisoners. They are all staffed and even surrounded by full-time guards, but they are all empty. These camps are to be operated by FEMA (Federal Emergency Management Agency) should Martial Law need to be implemented in the United States.
Think about these claims for a moment. Assuming each of these camps has only one employee acting as staff/guard/custodian that lives on the site, I still find it hard to believe there are as many as six-hundred government employees that are paid to sit around and do nothing. Jokes aside, obviously these facilities would require more then one employee, assuming they had four people who each were working twelve hour shifts seven days a week that would be twenty-four hundred people. Their salaries alone would equal up to well over one-hundred million dollars. If you include obvious costs of maintenance, insurance, utilities, public relations, and whatever else sort of overhead, then it adds up to be a fairly expensive operation. I would estimate that maintaining these camps would cost a billion of dollar a year in operations, maintenance, utilities, and so on. We do know the government has what is called the 'black budget'. What this means is they get money from other clandestine operations such as the CIA's cocaine smuggling operation, for which no public records are maintained. Yes it is real. It was still going on when Clinton was in office, and It's still going on now.
Guess who lost their job for involvement in all of this?
During the early and mid 1980s, Lt. Colonel North was alleged to participate in organizing the transportation of cocaine and marijuana from the various sites in Central and South America into the United States as a means of funding the Contra rebels. Congressional records show North was tasked with finding funding "outside the CIA" after the Boland Amendment cut off funding for the Contras in October, 1984.
On February 10, 1986, Robert Owen, North's liaison with the Contras, wrote North regarding a plane being used to carry "humanitarian aid" to the Contras that was previously used to transport drugs. The plane belonged to the Miami-based company Vortex, which is run by Michael Palmer, one of the largest marijuana traffickers in the United States. Despite Palmer's long history of drug smuggling, Palmer receives over $300,000 from the Nicaraguan Humanitarian Aid Office (NHAO) — an office overseen by Oliver North, Assistant Secretary of State for Inter-American Affairs Elliott Abrams, and CIA officer Alan Fiers — to ferry supplies to the Contras.
US Government dealing Cocaine in Mena Arkansas Part 2
Thats right, good Ole' Ollie North. Same guy who was behind REX84. You remember REX84? Thats why were here talking about FEMA camps, and how they might fund their operation. On a personal note I used to live near Mena, Arkansas, and the locals all know about the Cocaine Importation Agency's operations. Just four tons of cocaine Id estimate are worth about three-hundred million dollars. If we imagine that is just one flight on one day, and not include any other sources of clandestine income, that comes out to be over one-hundred billion dollars a year on the black budget. Though what do you want to bet that Glenn Beck and Popular Mechanics wouldn't want to touch this story with a ten-foot-pole. Whats Ollie north doing these days anyway? Oh thats right he's got his own show on Fox News now. Way to consistently reward negative behavior.
Back to the Conspiracy Theory
The Rex 84 Program was established on the reasoning that if a mass exodus of illegal aliens crossed the Mexican/US border, they would be quickly rounded up and detained in detention lefts by FEMA. Rex 84 allowed many military bases to be closed down and to be turned into prisons.

Operation Cable Splicer and Garden Plot are the two sub programs which will be implemented once the Rex 84 program is initiated for its proper purpose. Garden Plot is the program to control the population. Cable Splicer is the program for an orderly takeover of the state and local governments by the federal government. FEMA is the executive arm of the coming police state and thus will head up all operations. The Presidential Executive Orders already listed on the Federal Register also are part of the legal framework for this operation.

The camps all have railroad facilities as well as roads leading to and from the detention facilities. Many also have an airport nearby. The majority of the camps can house a population of 20,000 prisoners. Currently, the largest of these facilities is just outside of Fairbanks, Alaska. The Alaskan facility is a massive mental health facility and can hold approximately 2 million people.

A person named Terry Kings wrote an article on his discoveries of camps
located in southern California. His findings are as follows:
Over the last couple months several of us have investigated three soon-to-be prison camps in the Southern California area. We had heard about these sites and wanted to see them for ourselves.
Twenty thousand people they say. Angola prison a true forced labor camp, has five thousand inmates and is one of the largest in the U.S. I find it hard to believe that secret prisons exist that can hold twenty thousand people in humane conditions. Should I presume the FEMA camp stories imply Nazi style concentration camp conditions, with rows of cramped barracks? Perhaps they imply the people are merely caged up like animals in a stock yard and left exposed to the elements.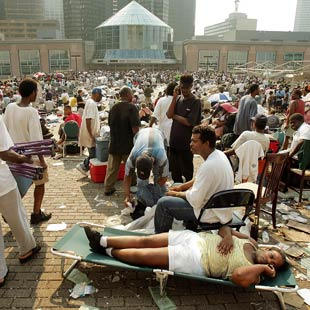 Governor: Evac Superdome, Rescue Centers
the Superdome, where 15,000 to 20,000 people have taken already refuge, said Louisiana National Guard Maj. Gen. Bennett C. Landreneau. One person died at the Superdome attempting to jump from one level to a lower one.

Among the evacuees are 5,000 inmates from New Orleans and suburbs that need to be moved. Officials were trying to figure out how.
Effect of Hurricane Katrina on the Louisiana Superdome
Adjutant General for the Louisiana National Guard, said that the number of people taking shelter in the Superdome rose to around 15,000 to 20,000 as search and rescue teams brought more people to the Superdome from areas hit hard by the flooding. During Katrina, officials set up security checkpoints, and confiscated alcohol, weapons, and illicit drugs from those seeking refuge in the building.
Hurricane Katrina Day 4 Vid 3 Emergency Superdome


What I'm not going to do is look at a picture of a military base with barracks and say – thats a prison camp. Could there be a two million person camp south east of Fairbanks Alaska? Thats just between the population of Houston and Phoenix. I just don't see it happening. Curiously the image of the alleged location of the Alaskan FEMA CAMP has not been updated since 2002, and low altitude images of that locations are unavailable. I'm sure for reasons of national security many images in this area are out of date or altered due to the presence of the military installation.
View Larger Map
What about the camps Terry King's reported?
U.S. Concentration Camps: FEMA and the Rex 84 Program
The first one we observed was in Palmdale, California.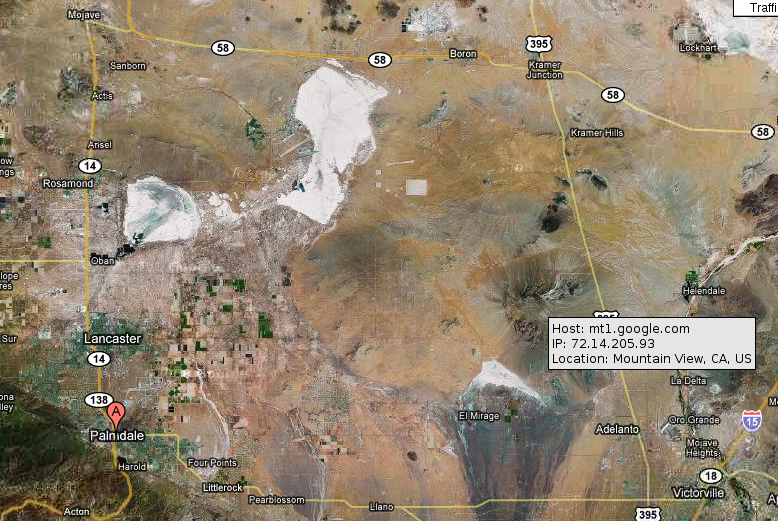 It is not operating as a prison at the moment but is masquerading as part of a water facility. Now why would there be a facility of this nature out in the middle of nowhere with absolutely no prisoners? The fences that run for miles around this large facility all point inward, and there are large mounds of dirt and dry moat surrounding the central area so the inside area is not visible from the road. There are 3 large loading docks facing the entrance that can be observed from the road. What are these massive docks going to be loading? We observed white vans patrolling the area and one came out and greeted us with a friendly wave and followed us until we had driven safely beyond the area. What would have happened had we decided to enter the open gate or ask questions?
This facility is across the street from the Palmdale Water Department.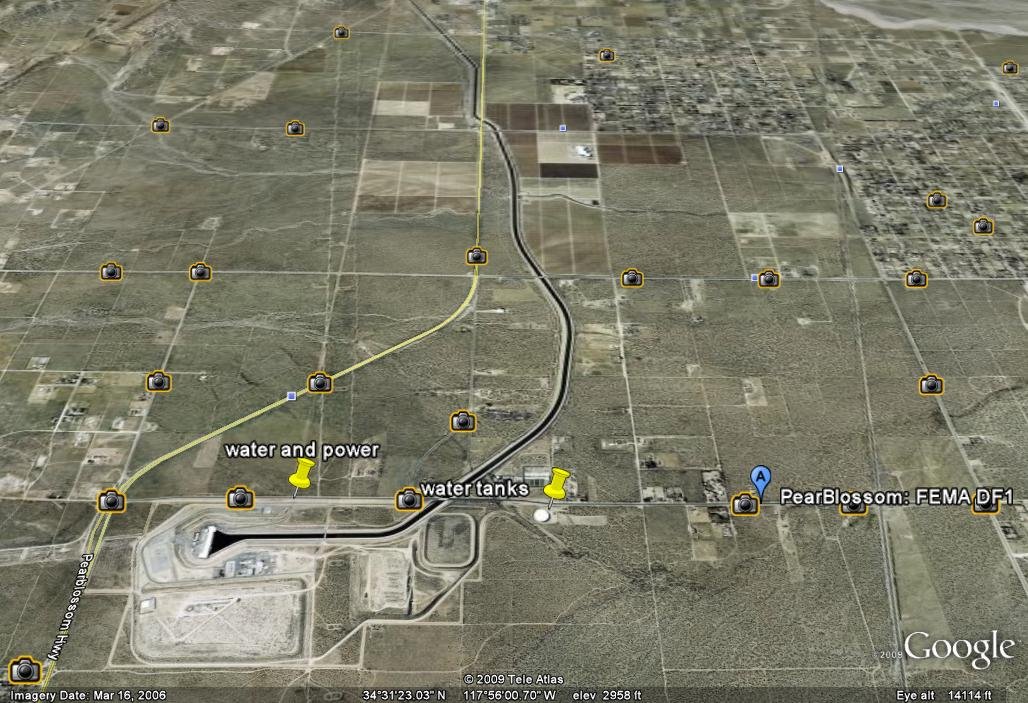 The area around the Water Department has fences pointing outward, to keep people out of this dangerous area so as not to drown. Yet, across the street, the fences all point inward. Why? To keep people in? What people? Who are going to be it's occupants?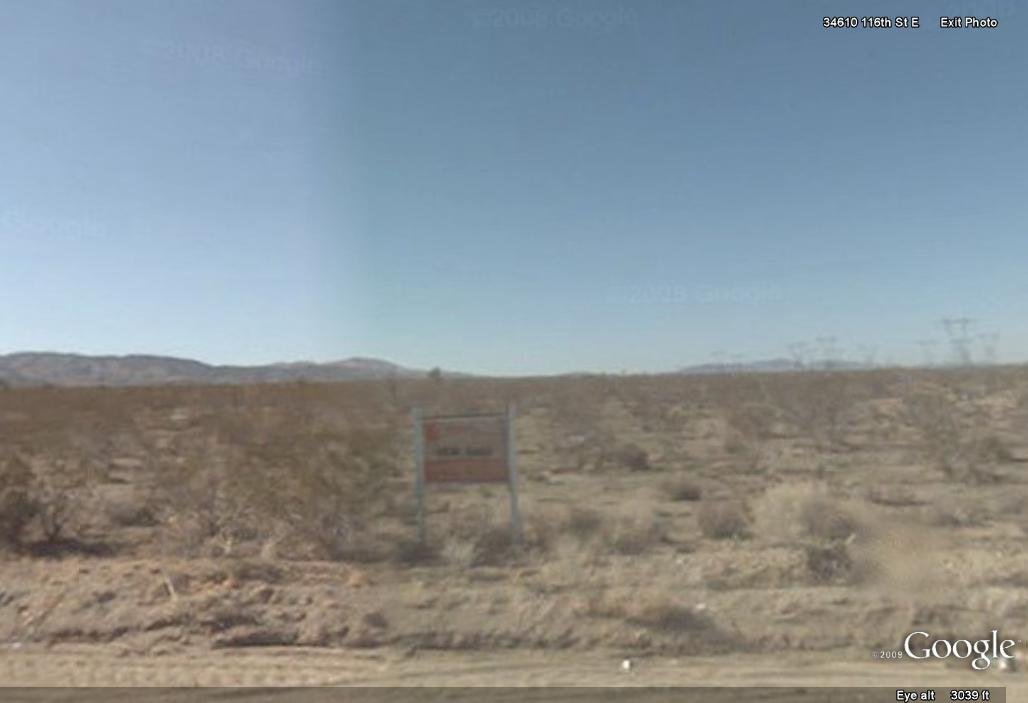 There does not seem to be any fencing across from the water facility. Though there is fencing across from the water tanks near by. They prevent access to more water treatment facilities. Additionally if you look at the sat image there are no structures directly across from the water facility. Off in the distance you might have noticed some strange gray shapes, these are part of Edwards Air Force Base, which just to the north.
There are also signs posted every 50 feet stating: State of California Trespassing Loitering Forbidden By Law Section 555 California Penal Code.
The sign at the entrance says: Pearblossom Operations and Maintenance Subcenter Receiving Department, 34534 116th Street East. There is also a guard shack located at the entrance.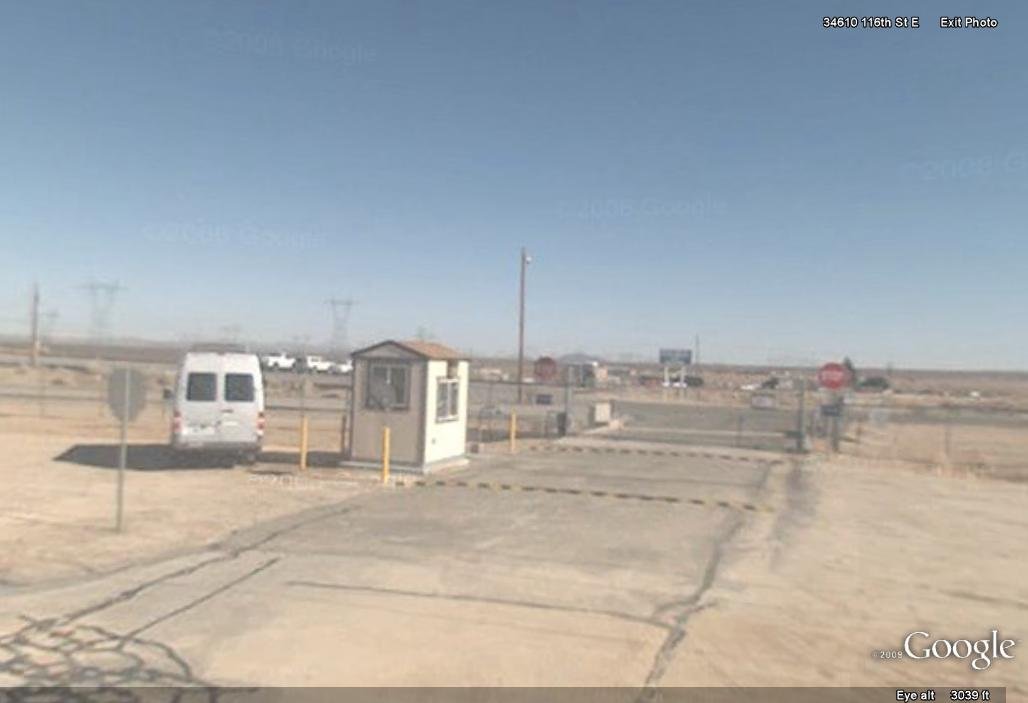 We didn't venture into this facility, but did circle around it to see if there was anything else visible from the road. We saw miles of fences with the top points all directed inward. There is a railroad track that runs next to the perimeter of this fenced area. The loading docks are large enough to hold railroad cars.

I wonder what they are planning for this facility? They could easily fit 100,000 people in this area. And who would the occupants be?
There is a rail line somewhat nearby, and sure I suppose you could fit 100,000 people in the desert, but there doesn't seem to be much there in the way of containing them. Again, from the photos available to the public, there is no facility across from 34534 116th Street East, Palmdale, CA. There is a search result which places a marker for this FEMA center on the map. Though it is down the street from the water facility, in a residential sort of area. There are no apparent detention facilities located there as far as I can tell. It is possible the images from Google have been manipulated. The only way to know for sure would be to physically visit the location. Anyone out there in Palmdale? Terry Kings' story isn't adding up, but lets continue checking it out.


Another site is located in Brand Park in Glendale. There are newly constructed fences (all outfitted with new wiring that point inward). The fences surround a dry reservoir. There are also new buildings situated in the area. We questioned the idea that there were four armed military personnel walking the park. Since when does a public park need armed guards?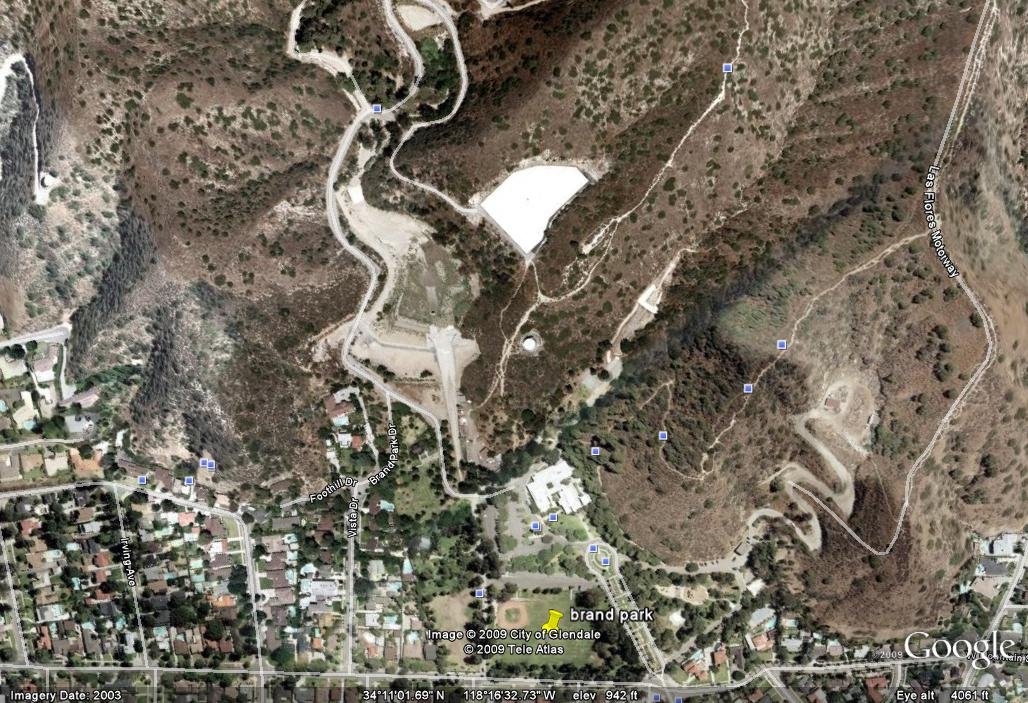 Now the park looks like a nice place to visit. At first I was thinking there's no chance of finding anything interesting here. Then I noticed the large white structure on the hill side. Upon closer inspection it seemed the image of the structure had been doctored. It looks like there is a dry reservoir and around that a fence which prevents traffic from entering that area. There is also a construction site further up the hill side.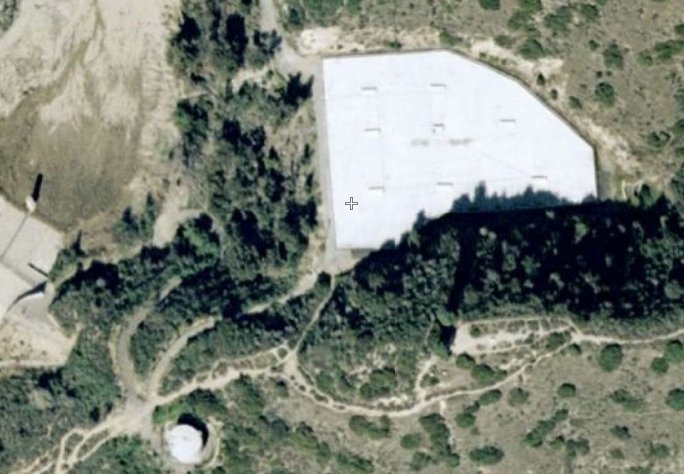 This is most likely what the curious area looks like, for some reason the image that is supposed to be the most recent on Google earth is older. Due to the limitation of satellite imagery, it is difficult to determine if this is a concrete area, or the roof of some building. I get the impression the block like objects are HVAC units. If you look at the area image, his object is the same size as the baseball field in the park. If anyone has more information on this or even better can go photograph it in person, please post something in the comments and I will update this article.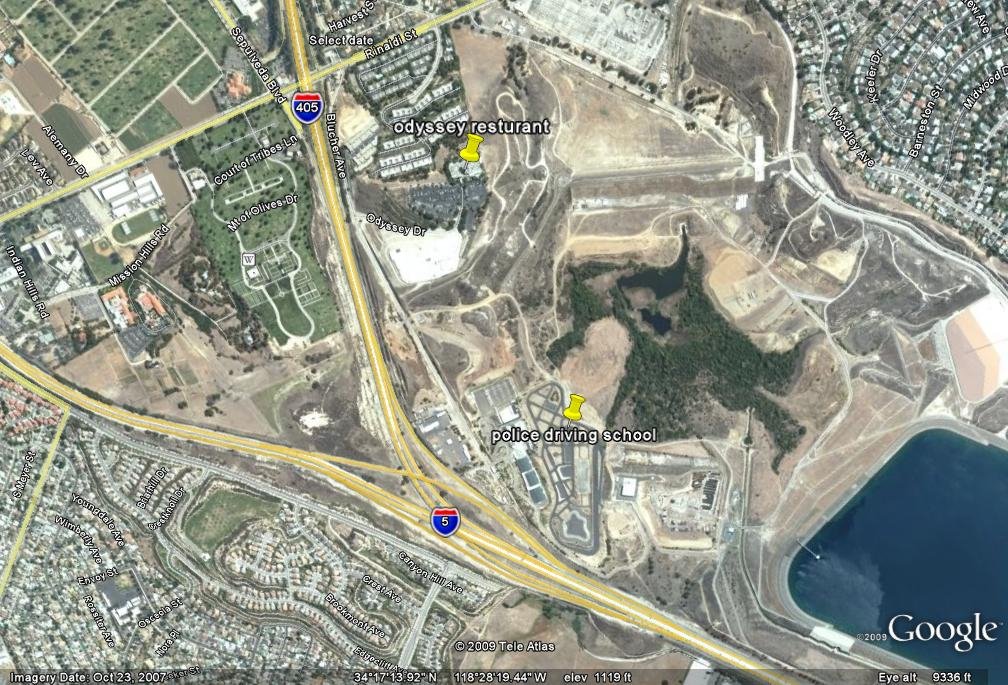 A third site visited was in the San Fernando Valley, adjacent to the Water District. Again, the area around the actual Water District had fences logically pointing out (to keep people out of the dangerous area). And the rest of the adjacent area which went on for several miles was ringed with fences and barbed wire facing inward (to keep what or who in?) Also, interesting was the fact that the addition to the tops of the fences were fairly new as to not even contain any sign of rust on them. Within the grounds was a huge building that the guard said was a training range for policemen. There were newly constructed roads, new gray military looking buildings, and a landing strip. For what? Police cars were constantly patrolling the several mile perimeter of the area.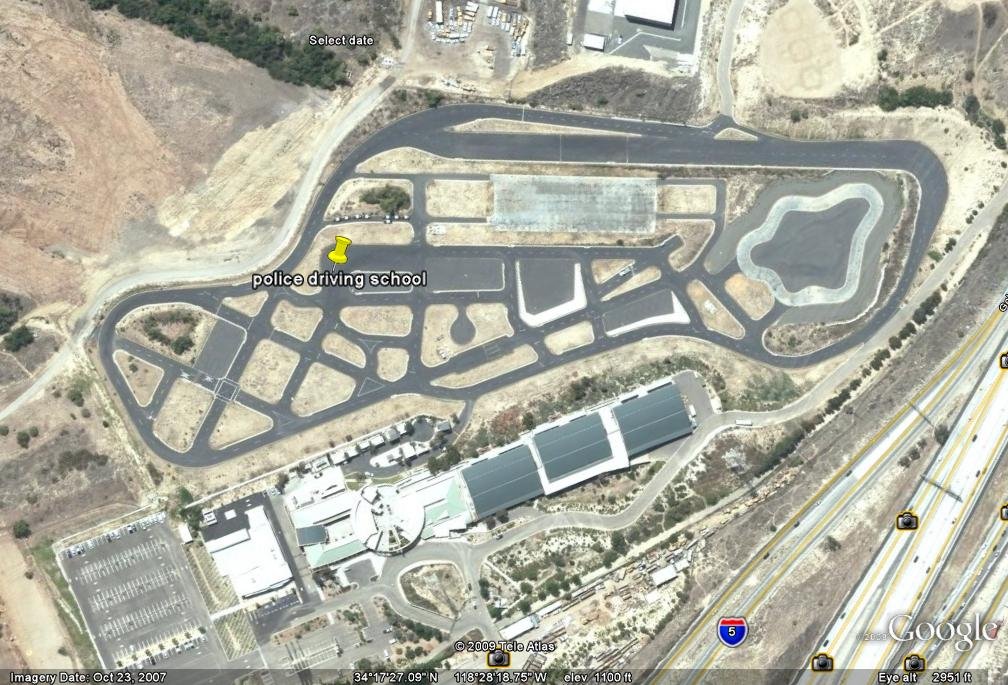 Nothing to see here, move a long. The relatively new driving area. Would have been only a few years old at the time the story was reported, and so the surrounding fence would have still been new looking. It's a police training facility in California, of course there is going to be a higher number of police vehicles in the area.
From the parking lot of the Odyssey Restaurant a better view could be taken of the area that was hidden from site from the highway. There was an area that contained about 100 black boxes that looked like railroad cars. We had heard that loads of railroad cars have been manufactured in Oregon outfitted with shackles. Would these be of that nature? From our position it was hard to determine.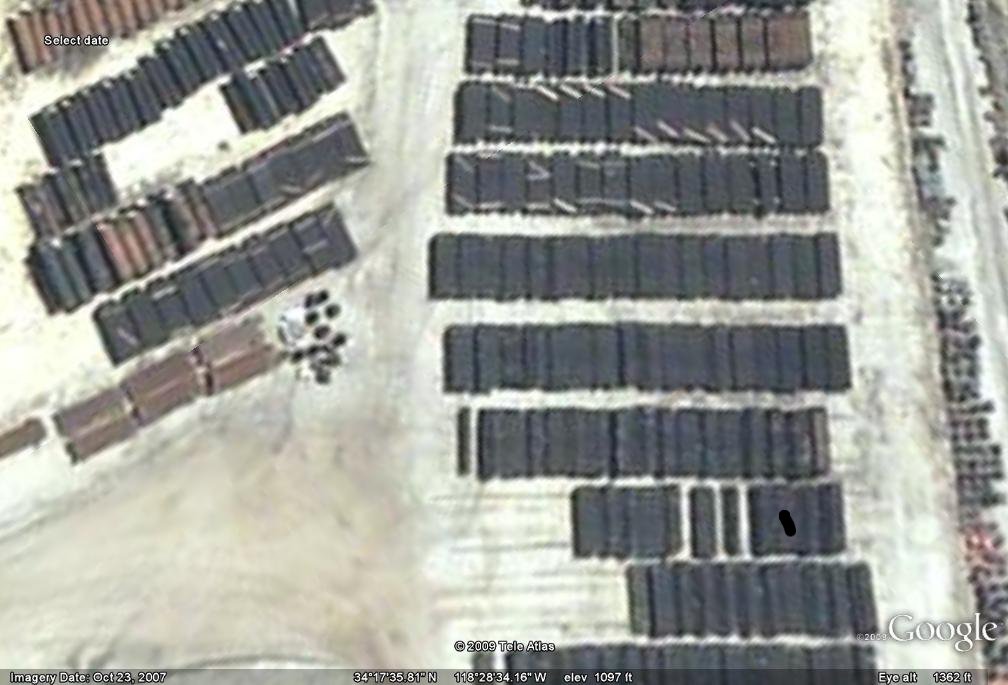 This is the only area I can see where from a distance one might mistake these objects for box cars. From the road I suppose they might appear to be train cars with domed tops. If you notice the banding, and the individual pieces, these are some sort of pipes. Likely they are used at the water facility that is adjacent. Looking at other maps there does not seem to be anything significant in that spot.
Before I continue with the FEMA camps story myself, I want to throw this in. In addition to the Terry Kings story, and the standard '600' camps story, there is now this bit which has been added into the snowball of 'proof'
US MARINE DRILL SERGEANT BOASTS OF WHAT THEY WILL DO TO CIVILIANS UNDER MARTIAL LAW IN THE USA/MONTANA
a crack US Marine drill sergeant with 12 years of professional training and being a trainer in the Marines.
note: this story is most likely BS. US Marine Drill Sergeant Boasts of What They Will Do To Civilians Under Martial Law in the USA/MONTANA, page 1
As a former Marine, I find the part about the Marine Drill Instructor very hard to believe. First, they are Drill Instructors, Drill Sergeants are in the Army. Second, I am not aware of any Marines being "deployed" in Montana. There may be a few reserve detachments there, but I am having my doubts about any real Marine presence there. Third, I am pretty sure that it isn't even possible to be a DI for 12 years.
In addition to that, the original source seems to be from an e-mail, the sort that most intelligent people delete.
Interesting Article on Fema Camps
A sergeant would know jack all about overall unit deployment let alone his company commander. And a sergeant is so far down the food chain that they would know nothing about box cars. Even if he was of an elite unit, a non commissioned officer is so far removed from compartmentalized information. Sergeants are in the 'go there, do this' category of the chain of command.
he specialized in hardening them to win (ie-fire on women and children wherever appropriate, "show no mercy" etc.)
He CONFIRMED lots of things to me to me I already knew, and revealed lots of new things to me.
MARINE CONFIRMS PRISONER BOXCARS PREPOSITIONED EVERYWHERE FOR MARTIAL LAW-
HE ADMITTED (actually, BOASTED would be more appropriate) that there were INDEED PRISONER BOXCARS PREPOSITIONED EVERYWHERE THROUGHOUT MONTANA where I interviewed him(and nationwide)…that the military has properly assessed the civilian resistance/militia threat under martial law, and hence had everything in place for a military takeover USING US MARINES HEAVILY.
I'm not Marine bashing here, wouldn't you want the worlds most feared fighting force running things? Though I'm sure that story is bogus, a military coup has nearly happened once before. Thank god for good Marines.
The General
This remarkable man was Smedley Darlington Butler, retired U.S. Marine Corps
Major General. Butler is the sort of person for whom the word "colorful" is
woefully inadequate. Butler won America's highest military award for bravery
(the Congressional Medal of Honor) twice. His style of warfare was unusual
not only for his personal courage, but for the energy he put into avoiding
bloodshed when it was possible to achieve his aims in other ways. Not
surprisingly, this engendered a remarkable loyalty among the men who served
under him — and that loyalty was why certain men asked Butler to lead a
military attack on Washington, D.C., with the goal of capturing President
Roosevelt.
The Whitehouse Coup (1933) 1 of 3
MacGuire eventually told Butler their real goal. MacGuire asked Butler to
lead an army of 500,000 veterans in a march on Washington, D.C. The stated
mission was to protect Roosevelt from other plotters, and install a
"secretary of general welfare" to "take all the worries and details off of
his shoulders." But Butler saw through their supposed concern for Roosevelt.
He testified before Congress that he told MacGuire:

[M]y interest is, my one hobby is, maintaining a democracy. If you get these
500,000 soldiers advocating anything smelling of Fascism, I am going to get
500,000 more and lick the hell out of you, and we will have a real war right
at home.
His story continues, which you are welcome to read on any of the other sites which carry it verbatim.
So what about the boxcars?
We had heard that loads of railroad cars have been manufactured in Oregon outfitted with shackles.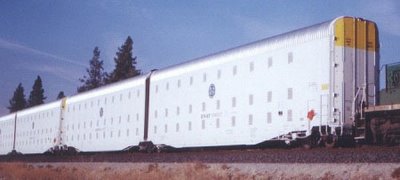 Looks like a standard car carrier unit to me. In addition to that, someone pointed out that with all of the train buffs out there, someone is sure to notice anything out of the ordinary.
Let's dig a little deeper. It turns out the person who was responsible for that previous remarkable story about the Marine Drill Sargent, also has supposed confirmed eye-witness accounts of FEMA Death trains complete with a guillotine.
GUNDERSON PRISONER BOXCARS WITH SHACKLES
My research and documentation on the boxcars and shackles goes far beyond Phil´s interview. Long before I heard of him, I had eyewitness information on these boxcars. A van full of eyewitnesses, missionaries traveling across America to evangelize and pray, stumbled across these boxcars in Montana, near Columbia Falls in Glacier. They described
boxcars, in this case painted black, with shackles welded into them and a modern guillotine at the head of each boxcar inside. As they were photographing mountain scenery, they decided to follow railroad tracks into the wilderness so as to not get lost. This is how they came upon these boxcars with shackles. I later received a report from Lee Harrington of Valier, MT, who was a professional metal worker. He told me how in Glascow, MT, summer youth workers were employed to weld shackles into boxcars in that operation.
They were then shipped west to Glacier and stored on remote sidetracks. Passing through the Blackfoot Indian Reservation in Cutbank, a local Blackfoot Indian, George Bullcalf, spotted these strange boxcars, some with open doors and shackles, plainly visible, passing through the reservation.
First things first who is this Phil, because I'm not even going to buy into the story about a van full of missionaries who see modern guillotines on the head of box cars. Where are these summer youth workers who were used to weld the shackles? Again the author of this story is the same one responsible for the story about the Marine Corps drill Sargent. There is a hair of truth to the guillotine story.
HB 1274 – Death penalty; guillotine provisions
1- 8 The General Assembly finds that while prisoners condemned to 1- 9 death may wish to donate one or more of their organs for 1-10 transplant, any such desire is thwarted by the fact that 1-11 electrocution makes all such organs unsuitable for 1-12 transplant. The intent of the General Assembly in enacting 1-13 this legislation is to provide for a method of execution 1-14 which is compatible with the donation of organs by a 1-15 condemned prisoner.

1-22 (a) All persons who have been convicted of a capital
1-23 offense and have had imposed upon them a sentence of death
1-24 shall, at the election of the condemned, suffer such
1-25 punishment either by electrocution or by guillotine.
Again this came out in the mid 90's. around the time most of these other stories started to appear. Including the Beach Grove FEMA/Amtrak video which came out in 1995. There are a number of reports about "15,000 or 30,000 guillotines had been shipped to Georgia as well as Montana."
I would not trust that as a source of information, their only reference is the same as I have just made in regards to the organ harvesting legislation above. The only image of the interior of these FEMA rail cars with shackles I can find at the moment, is in this video.
Tex Mars talks on Cattle Cars for People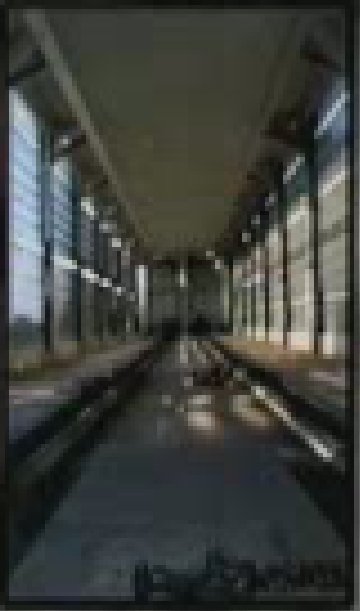 Obviously the quality of the image is bad, but a limited search did not return one of a higher grade. So I would be suspicious of the photo as it is not widely circulated, and may be a hoax. The structure of the interior in the image is quite like this next image.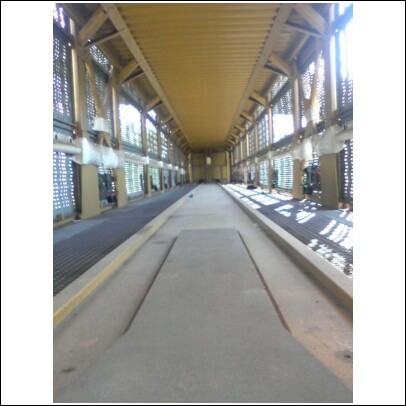 So where did the FEMA shackle human cattle train story come from?
Philip Schneider was an ex-government structural engineer who was involved in building underground military bases around the United States , and to be one of only three people to survive an incident that occurred in 1979 between Grey aliens and U.S. military forces at the Dulce underground base .
For the last two years of his life, Schneider gave lectures about government cover-ups, black budgets, and UFOs. Schneider was never able or willing to prove his allegations (e.g. showing the entrance to Dulce Base). His claims received little mainstream notice, but caused quite a buzz in UFO enthusiast circles.
Schneider was found dead in his apartment on January 17 1996 Some suggest Schneider was murdered .
Oh geez, now we are getting in to the realm of aliens, and UFOs. O.K. Let's take a deep breath here, pause, re-group, and stay focused on the issue at hand. One fact we can take away from this is the date of Mr. Schneider's death. The story of his troubled friend, and the possible existence of the shackled box cars now dates to some time before 1996. This makes sense because the FEMA camp story also dates back to around that time. 1996 for me at least marked the beginning of the internet boom. There was already a large social network of people using Bulletin Board Systems. I'm fairly sure this is where I was first exposed to the story. Rex84 comes from the year 1984, and perhaps through the spread of information and technology the FEMA Camp/Train story could have originated from initial speculation about the motives behind Operation Garden Plot. Since Schneider was found dead in 1996, and he had been touring and spreading this information for at least a short time, then I'll presume the meeting with his friend occurred a year or so earlier. I want everyone to know I am not knocking Phil Schneider, but in the context of this story relating to aliens and anything not related specificity to the FEMA camp story is going to be ignored.
Schneider's Worries About Government Factions, Railroad Cars and Shackle Contracts

"Now, I am very worried about the activity of the federal government. They have lied to the public, stonewalled Senators, and have refused to tell the truth in regard to alien matters. I can go on and on. I can tell you that I am rather disgruntled. Recently, I knew someone who lived near where I live in Portland, Oregon. He worked at Gunderson Steel Fabrication where they make railroad cars. Now, I knew this fellow for the better part of 30 years, and he was kind of a quiet type. He came in to see me one day, excited, and he told me "they're building prisoner cars." He was nervous. Gunderson, he said, had a contract with the federal government to build 107,200 full length railroad cars, each with 143 pairs of shackles. There are 11 sub-contractors in this giant project. Supposedly, Gunderson got over 2 billion dollars for the contract. Bethlehem Steel and other steel outfits are involved. He showed me one of the cars in the railyards in North Portland. He was right. If you multiply 107,200 times 143 times 11, you come up with about 15,000,000. This is probably the number of people who disagree with the federal government. No more can you vote any of these people out of office. Our present structure of government is "technocracy," not democracy ,and it is a form of feudalism. It has nothing to do with the republic of the United States. These people are God-less, and have legislated out prayer in public schools. You can get fined up to $100,000 and two years in prison for praying in school. I believe we can do better. I also believe that the federal government is running the gambit of enslaving the people of the United States. I am not a very good speaker, but I'll keep shooting my mouth off until somebody puts a bullet in me, because it's worth it to talk to a group like this about these atrocities.
So is this the origin of the FEMA Train story? I'd say it's likely. If you search for FEMA trains, just like with the six-hundred camps, there will be a ton of sites with "FEMA orders 107,200 box cars with shackles". Is there any real evidence of this? Here we go down the rabbit hole to the land of gunfighting aliens and guillotined box cars. Secret underground bases where reptilian and human scientists work together on ultra advanced projects. Lets take this slowly, one step at a time. It's a patriots duty to be worried about the activity of the federal government. Politicians are liars, and senators can be manipulated in a number of ways. As far as this post goes with the alien thing, yes the government is most likely keeping some information from the public. Back to the shackle welding, where are all of these other workers? Also whats the real need for shackles, I've got friends that hop trains and ride in box cars. For starters they have never seen the FEMA death train cars, and additionally one of the big dangers is accidentally getting locked in one of these box cars, because there is no escape from the steel box. Bethlehem Steel does have government contracts to make steel products such as bars and other things. but since this is the only time they are mentioned I will leave them alone for now. Also I do agree with the statement about the government existing as a technocracy, I have my own separate reasons for this which may appear some time in the future. All of this aside, lets now shine a little light down the Gunderson rabbit hole.
There is an industrial area in North Portland. Is there a Gunderson Steel Fabrication that makes rail cars? Well there is a Gunderson Rail Services. Perhaps they have changed their name in the last 10 years or so.
Gunderson Rail Services
Greenbrier's repair and refurbishment subsidiary, Gunderson Rail Services, offers repair and refurbishment services across North America in the following areas:
Complete repair service
Complete full service wheel shops
Complete engineering services
Field survey and equipment analysis; develop scope of work.
Technical services for quality program repair work, heavy repairs, scheduled maintenance.
Special car modification and renewal programs as identified by the customer. Gunderson Rail Services has refurbished, coordinated repair or managed maintenance programs for thousands of rail cars at facilities in Oregon, Washington, Texas, Colorado and Kansas. This work includes covered hoppers, open top hoppers, boxcars, gondolas, double-stack cars, and all types of flatcars.

Gunderson Rail Services Llc
1200 NW Naito Pkwy
Portland, OR 97209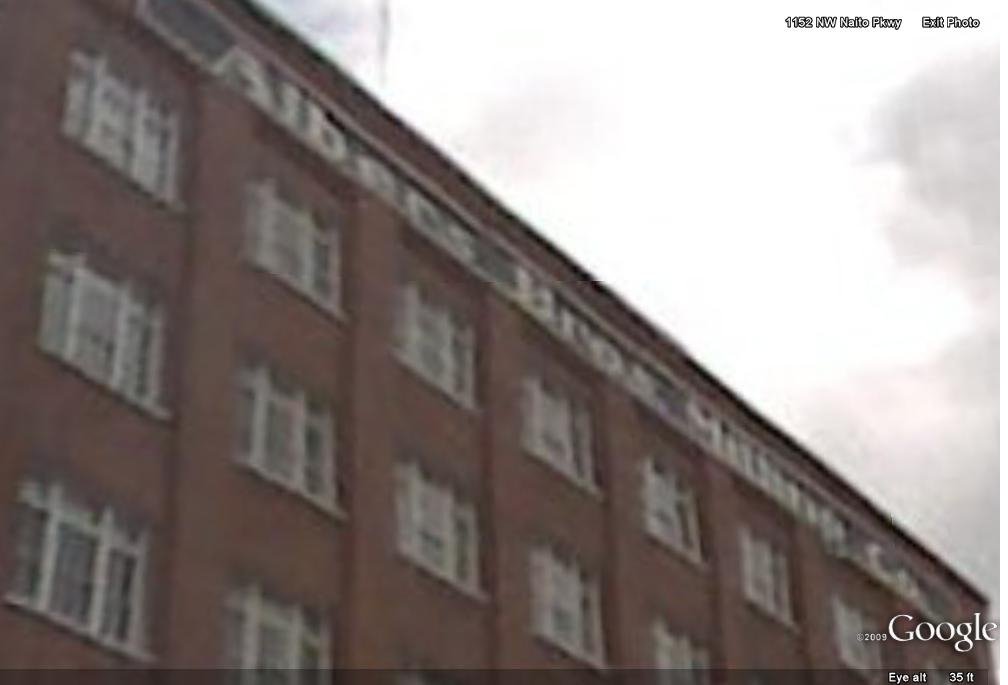 The Building at 1200 NW Naito PKWY is supposed to be the Gunderson Steel Fabrication plant. Though It seems to be the historic Albers Brothers Milling Company building.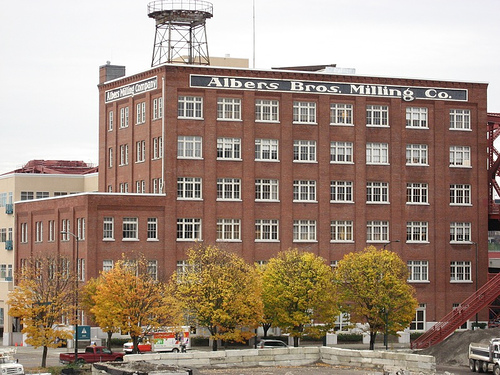 Perhaps it is being leased out for office space, and Gunderson simply was using that for a business address, and not as a manufacturing facility. Though this does bring into light the authenticity of the Phil Schneider story. If his friend did work at Gunderson in Portland, then where is the facility? Where are the other workers who were involved in the welding of these shackles? Where are the 107,200 rail cars? After a little more looking I did find the Gunderson Rail Service in the NW Portland Industrial Area.
Private Subsidiary, Headquarters Location
4012 NW Front St., Portland, OR 97210-1422, United States
(800)343-7188, (503)972-5950, (503)226-3192 fax, http://www.gundersonrailservices.com
Primary SIC: Railroad Equipment, Primary NAICS: Railroad Rolling Stock Manufacturing
Description: Manufacturing: Provides railroad car repair, refurbishment, wheel and axle service, wreck repair, and parts.
Gunderson has a number of locations around the country. According to the initial story there were many others contracted out for this job. It was mentioned that Gunderson alone received a two billion dollar contract for this work. A two billion dollar contract would put them in the very top of the list of government contracts. Aside from the fact that this company does exist, there is no proof they have ever made shackled prison cars. There is no evidence of an enormous fleet of prepared train cars ready to take anyone off to some facility. There may be some truth to the FEMA train story, perhaps the box cars are stored in the numerous underground bases. There does not seem to be any credible evidence on the existence of the alleged FEMA trains.
If you watch this video I think we can solve the whole FEMA train issue. Be sure to note the manufacturer of the trains in the video is Gunderson subsidiary of Greenbriar. These are long white triple decker trains with shackles welded to the floor.
OMG FEMA TRAINS (Auto-Max Train Cars)
Again I am not trying to discredit the late Mr. Schneider, however I do believe he was misinformed on the issue of the train cars.


What about the other alleged FEMA camps that were not investigated? You can find a partial list here. Again its just one version of the list that has been tacked on the ever snowballing FEMA camp story. Most of the so-called camps on the list are listed as 'Military compounds' or 'WWII' detention camps. If, by chance you are behind on the times, the U.S. has employed prison camps of one sort or another since the Revolutionary War.
Anyone researching this subject is going to hit a wall. All of these places are already prisons, or some sort of secure facility. Of course they are going to have guard towers, and razor wire, and buildings to house lots of people. Without physically visiting each and every reported location there is no way to prove or disprove the FEMA camps. Though some of the sites are listed as part of 'Operation Garden Plot' and would fall under the control of FEMA/DHS, and technically would be 'FEMA camps'. Much of the information available is likely out of date. I would encourage people to carefully search out these so-called FEMA camps in their area and perform some citizen journalism. But even if you did this, I don't think they are going to have a sign out front saying "FEMA CAMP".
Are there FEMA/DHS camps? At this point I suppose it is relative to current events. There are plenty of facilities capable of becoming civilian detention centers, A FEMA provisional detention center was set up in Sand Point during the 1999 Seattle WTO riots. Any of these locations can become a detention facility, more so if the new legislation is passed. The DHS emergency immigrant influx camps being created by KBR for the purpose which matches word for word the first part of REX84. The sort of detention used at events such as the WTO protests and the center created for the DNC fit the wording of the second part of REX84. We also know provocateurs have been sent into disrupt demonstrations and instigate violence for years.
VIDEO: Canadian Police Caught Attempting To Stage Riots
Quebec provincial authorities have admitted that three rock-wielding mask-wearing "anarchists" were in fact police infiltrators used to gather information on protesters at this week's SPP summit, but authorities are still ludicrously denying the fact that the provocateurs were intent on causing a riot in order to justify a heavy-handed response.
Evidence — Police provoke Violence at SPP protest

Again we have a Problem, Reaction, Solution situation which also known as the Hegelian Dialectic, has been used by governments to put its people in situations they are inclined to accept as being for their own good.
What is the Hegelian Dialectic?
In 1847 the London Communist League (Karl Marx and Frederick Engels) used Hegel's theory of the dialectic to back up their economic theory of communism. Now, in the 21st century, Hegelian-Marxist thinking affects our entire social and political structure. The Hegelian dialectic is the framework for guiding our thoughts and actions into conflicts that lead us to a predetermined solution. If we do not understand how the Hegelian dialectic shapes our perceptions of the world, then we do not know how we are helping to implement the vision. When we remain locked into dialectical thinking, we cannot see out of the box.

The solution is locking away your enemies, those who dare to question the authority of the state. The problem is created by agents of the state who instigate violence in peaceful protests. The obvious reaction is to come up with a solution which has been pre-provided in anticipation of such an event. The government expects opposition from the population, after all you can't fool all the people all of the time. Remember how the PATRIOT act was prepared before 9/11? As if they were anticipating some sort event which would necessitate 'appropriate tools required to intercept and obstruct terrorism'.